Leavitt Dental Group
5867 Mayfield Rd
Mayfield Heights, OH 44124
440-442-3262
My Blog
Posts for: January, 2019
By Leavitt Dental Group
January 16, 2019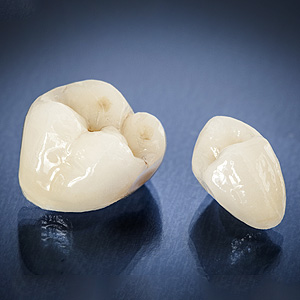 All crowns are designed to restore functionality to a damaged tooth. But crowns can differ from one another in their appearance, in the material they're made from, and how they blend with other teeth.
A crown is a metal or porcelain artifice that's bonded permanently over a decayed or damaged tooth. Every crown process begins with preparation of the tooth so the crown will fit over it. Afterward, we make an impression of the prepared tooth digitally or with an elastic material that most often is sent to a dental laboratory to create the new crown.
It's at this point where crown composition and design can diverge. Most of the first known crowns were made of metal (usually gold or silver), which is still a component in some crowns today. A few decades ago dental porcelain, a form of ceramic that could provide a tooth-like appearance, began to emerge as a crown material. The first types of porcelain could match a real tooth's color or texture, but were brittle and didn't hold up well to biting forces. Dentists developed a crown with a metal interior for strength and a fused outside layer of porcelain for appearance.
This hybrid became the crown design of choice up until the last decade. It is being overtaken, though, by all-ceramic crowns made with new forms of more durable porcelain, some strengthened with a material known as Lucite. Today, only about 40% of crowns installed annually are the metal-porcelain hybrid, while all-porcelain crowns are growing in popularity.
Of course, these newer porcelain crowns and the attention to the artistic detail they require are often more expensive than more traditional crowns. If you depend on dental insurance to help with your dental care costs, you may find your policy maximum benefit for these newer type crowns won't cover the costs.
If you want the most affordable price and are satisfied primarily with restored function, a basic crown is still a viable choice. If, however, you would like a crown that does the most for your smile, you may want to consider one with newer, stronger porcelain and made with greater artistic detail by the dental technician. In either case, the crown you receive will restore lost function and provide some degree of improvement to the appearance of a damaged tooth.
If you would like more information on porcelain crown, please contact us or schedule an appointment for a consultation.
By Leavitt Dental Group
January 06, 2019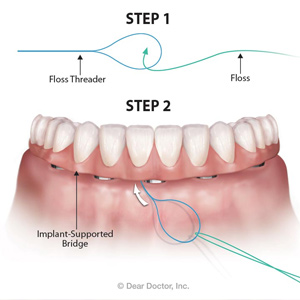 Implant-supported fixed bridges are growing in popularity because they offer superior support to traditional bridges or dentures. They can also improve bone health thanks to the affinity between bone cells and the implants' titanium posts.
Even so, you'll still need to stay alert to the threat of periodontal (gum) disease. This bacterial infection usually triggered by dental plaque could ultimately infect the underlying bone and cause it to deteriorate. As a result the implants could loosen and cause you to lose your bridgework.
To avoid this you'll need to be as diligent with removing plaque from around your implants as you would with natural teeth. The best means for doing this is to floss around each implant post between the bridgework and the natural gums.
This type of flossing is quite different than with natural teeth where you work the floss in between each tooth. With your bridgework you'll need to thread the floss between it and the gums with the help of a floss threader, a small handheld device with a loop on one end and a stiff flat edge on the other.
To use it you'll first pull off about 18" of dental floss and thread it through the loop. You'll then gently work the sharper end between the gums and bridge from the cheek side toward the tongue. Once through to the tongue side, you'll hold one end of the floss and pull the floss threader away with the other until the floss is now underneath the bridge.
You'll then loop each end of the floss around your fingers on each hand and work the floss up and down the sides of the nearest tooth or implant. You'll then release one hand from the floss and pull the floss out from beneath the bridge. Rethread it in the threader and move to the next section of the bridge and clean those implants.
You can also use other methods like specialized floss with stiffened ends for threading, an oral irrigator (or "water flosser") that emits a pressurized spray of water to loosen plaque, or an interproximal brush that can reach into narrow spaces. If you choose an interproximal brush, however, be sure it's not made with metal wire, which can scratch the implant and create microscopic crevices for plaque.
Use the method you and your dentist think best to keep your implants plaque-free. Doing so will help reduce your risk of a gum infection that could endanger your implant-supported bridgework.
If you would like more information on implant-supported bridges, please contact us or schedule an appointment for a consultation. You can also learn more about this topic by reading the Dear Doctor magazine article "Oral Hygiene for Fixed Bridgework."