Leavitt Dental Group
5867 Mayfield Rd
Mayfield Heights, OH 44124
440-442-3262
My Blog
Posts for tag: nutrition
By Leavitt Dental Group
October 28, 2018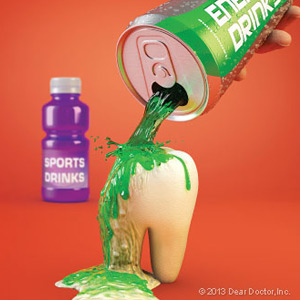 Sports drinks have been widely touted as an ideal way to replenish carbohydrates, electrolytes and, of course, fluids after a strenuous event or workout. But the mixtures of many popular brands often contain acid and added sugar, similar to other types of soft drinks. This can create an acidic environment in the mouth that can be damaging to tooth enamel.
Of course, the best way to replenish fluids after most strenuous activities is nature's hydrator, water. If, however, you or a family member does drink the occasional sports beverage, you can help reduce the acid impact and help protect tooth enamel by following these 3 tips.
Avoid sipping a sports drink over long periods. Sipping on a drink constantly for hours interferes with saliva, the bodily fluid responsible for neutralizing mouth acid. But because the process can take thirty minutes to an hour to bring the mouth to a normal pH, saliva may not be able to complete neutralization because of the constant presence of acid caused by sipping. It's best then to limit sports drinks to set periods or preferably during mealtimes.
Rinse your mouth out with water after drinking.  Enamel damage occurs after extended periods of exposure to acid. Rinsing your mouth out immediately after consuming a sports drink will wash away a good amount of any remaining acid and help normalize your mouth's pH level. And since water has a neutral pH, it won't add to the acid levels.
Wait an hour to brush after eating. As mentioned before, saliva takes time to neutralize mouth acid. Even in that short period of time, though, acid can soften some of the mineral content in enamel. If you brush during this "soft" period, you may inadvertently brush away some of the minerals. By waiting an hour, you give saliva time not only to neutralize acid but also restore mineral strength to the enamel.
If you would like more information on sports and energy drinks and their effect on dental health, please contact us or schedule an appointment for a consultation. You can also learn more about this topic by reading the Dear Doctor magazine article "Think Before you Drink."
By Leavitt Dental Group
May 17, 2016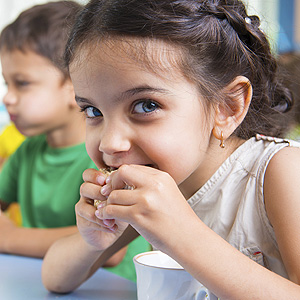 While you do all you can to provide your child healthy meals and snacks at home, they still face tempting choices for unhealthy fare when they're away. Unfortunately, their school campus could be one of those places with food choices that raise their risk for dental disease.
Thankfully, that situation is beginning to change. The U.S. Department of Agriculture (USDA) issued regulations a few years ago tightening minimum health standards for snacks available on school grounds. Called the Smart Snacks in Schools initiative, it promotes whole grains, fruits, vegetables and low-fat dairy products, while discouraging snacks with empty calories, fat, sugar and excessive salt. This is good news in particular for preventing tooth decay in children and teenagers.
Unfortunately, the initiative may not go far enough. There are a few "loopholes": it allows for chocolate milk with added sugar as long as it's fat-free; high schools can also sell beverages like sports and energy drinks, which are low in sugar but high in enamel-harming acid. So, although the general nutrition of snacks in schools may be improving, you should still remain alert to poor choices that may fall through the cracks.
For one thing, you can advocate for better nutrition policies in your child's school. The USDA initiative is a minimum standard — schools can exceed them and eliminate borderline snacks allowed under the federal regulations.
You can also provide your child snack alternatives to the school vending machine. A little creativity and fun can go a long way: a dash of cinnamon or parmesan cheese on popcorn instead of butter; finger sandwiches made of real cheese on whole-grain bread (with some whimsical shaping with a cookie-cutter); or bite-sized fruits and vegetables like grapes, baby carrots or nuts. The more healthy (and enjoyable) snacks you can send with them, the less chance they'll turn to a less nutritious choice in the vending machine.
A healthier approach to snacking depends on setting good examples, providing ample selections and accentuating the positive about healthy foods. Choosing nutritious foods, at home and away, is a key building block for healthy teeth and gums.
If you would like more information on nutrition and dental health, please contact us or schedule an appointment for a consultation. You can also learn more about this topic by reading the Dear Doctor magazine article "Snacking at School."
By Leavitt Dental Group
August 29, 2014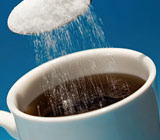 We've all heard about potentially negative health effects from the sugar that's added to many of our favorite foods. So these days, lots of us are trying to cut down on our consumption of sugar — not only to lose weight, but also to help prevent maladies like diabetes and heart disease. We can't help noticing those pastel-colored packets — pink, yellow and blue — on the rack of our favorite coffee shop. But now we're wondering: Are those sugar substitutes a good alternative to natural sugar? And which one should we choose?
Artificial sweeteners have been around for decades. Six different types (including the ones in the colorful packets) are currently approved as safe by the Food and Drug Administration; a couple of older ones (notably cyclamates) have been banned for many years. In addition to those zero-calorie sugar substitutes, low-calorie sweeteners called sugar alcohols (for example, mannitol and xylitol) are often used as food ingredients. So what's the difference between them — and which one is best?
That's not so easy to answer. If you have a rare genetic condition called phenylketonuria, you should avoid aspartame (the blue packet), because your body can't process the substance. Otherwise, the choice may come down to a matter of taste. Even though they are FDA-approved, some controversy (both fact-based and far-fetched) remains about the long-term safety of sugar substitutes, and their usefulness in preventing obesity and other diseases.
Yet it's clear that for some people, the consequences of consuming too much sugar could be much worse. So if you're at risk for diabetes or certain other diseases, sugar substitutes can be an important tool in maintaining a healthier diet. They also have another health benefit: sugar substitutes don't cause cavities. Further, some sugar alcohols (xylitol in particular) have the property of stimulating saliva flow, and have been shown to actually impede the formation of cavities. Oral health is an important (if sometimes overlooked) component of your general well-being, and several studies have pointed to a link between oral and systemic diseases — for example, diabetes and heart disease.
As with so many aspects of our health, there seems to be no "magic bullet" to cure all our diet-related problems. But used in moderation, artificial sweeteners can be a valuable part of the effort to improve our overall health and well-being. For more information on this topic, see the Dear Doctor article "Artificial Sweeteners."